13 July 2022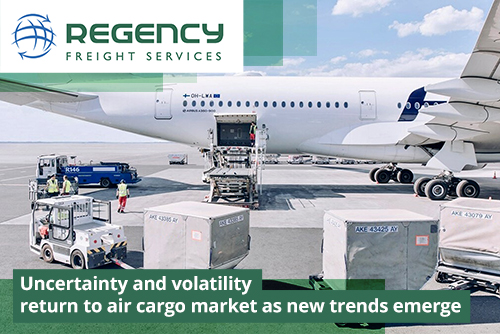 The air cargo market is beset by "a great deal of uncertainty and volatility", with two distinct trends emerging in recent months.
"Air imports to Europe, especially from the Asia Pacific region, have been depressed as a result of Covid lockdowns and the knock-on effects on trade from some major Chinese cities, notably Hong Kong and Shanghai."
10 January 2017 | Admin

China has launched a direct rail freight service to London
15 November 2016 | Admin

Sir Richard Branson on Tuesday heralded the rebirth of supersonic passenger flights
24 August 2016 | Admin

US aerospace giant Boeing cuts back on 747 planes as air freight suffers slowdown and production costs outweigh sales
5 August 2016 | Admin

GE Aviation's win of a $1 billion contract to develop a sixth-generation variable-cycle fighter engine is seen as a crucial next step in the future of its US$3.7 billion military engines business.
26 July 2016 | Admin

Amerijet, the Miami based scheduled freighter operator, has a new owner.
H.I.G. Capital, a global private equity investment firm, confirmed today that it has sold its portfolio company, Amerijet Holdings, to an affiliate of ZS Fund, a middle market focused private equity firm.
15 July 2016 | Admin

Boeing and CargoLogicAir took advantage of the Farnborough International Airshow to announce the delivery of the first of five potential 747-8Fs that the U.K. based subsidiary of the Volga-Dnepr Group hopes to receive within its first five years of operations.
12 July 2016 | Admin

Qatar Airways group chief executive Akbar Al Baker has disclosed that talks with Boeing over a potential order for up to 30 737s are "quite advanced" as he examines alternatives to his stalled Airbus A320neo deal.
11 July 2016 | Admin

The UK government will buy nine new maritime patrol planes from Boeing in a decade-long deal worth £3bn. The Ministry of Defence's deal for the submarine-hunting P-8A Poseidon aircraft also covers training, maintenance and support. Boeing will build a new £100m facility for the planes at RAF Lossiemouth in Moray.
11 July 2016 | Admin

Virgin Atlantic is to add 12 Airbus A350-1000s to its fleet. Under deals disclosed at the Farnborough air show today, the UK airline will receive the widebodies between 2019 and 2021.