Tracking the digital transformation of the supply chain
23 June 2022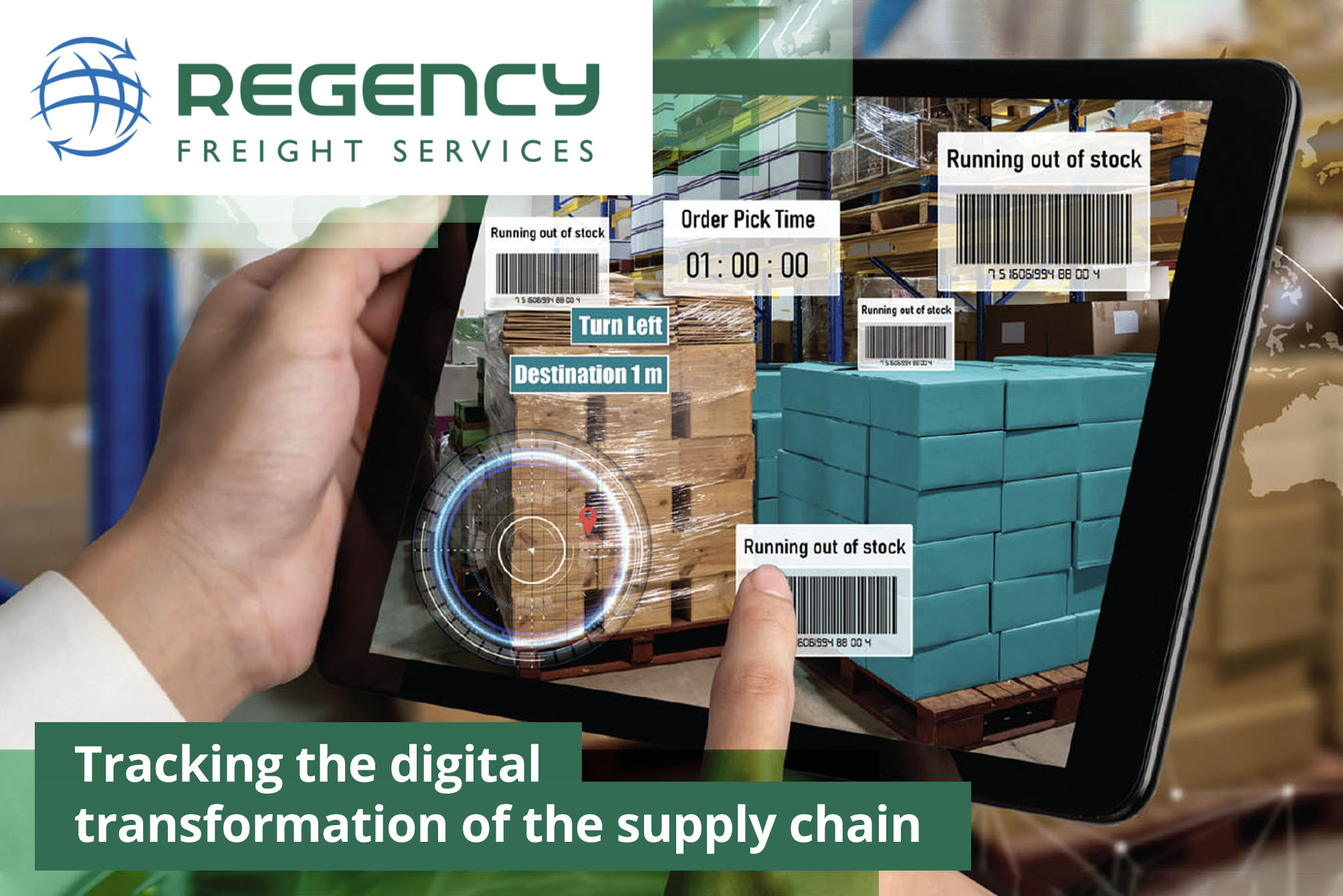 Once a distant vision that few organizations could attain, the digital supply chain has come into full focus as companies across all industries adopt the technologies, re-imagine their processes and embrace the changes necessary to orchestrate an end-to-end digital supply chain. This can mean different things depending on the organization—some are further along on this journey than others—but the end goals of eliminating waste, increasing efficiencies and improving the bottom line are fairly constant.
Credit the recent supply chain disruptions and the associated challenges with driving some of the latest progress on the digital front. In response, advancements in technology, customer requirements and vendor ingenuity have all come together to birth a host of new solutions and software that address shippers' most pressing problems.
And while the digital supply chain was already taking shape well before the pandemic emerged in 2020, this singular event has proven to be the catalyst needed to get more organizations on board with the idea.
"We've definitely seen an uptick in interest in the digital supply chain," says Howard Turner, director of supply chain systems at St. Onge Company. Companies that are grappling with the high volume of e-commerce orders, for example, are investing in more warehouse automation and related tools that help them manage this influx. Many of the same companies are also dealing with massive labor constraints—yet another driver of digital supply chain investment this year.
In most cases, Turner says shippers are using a discerning eye when shopping for warehouse automation and other solutions, and most want to see specific, proven use cases before they'll hit the "buy now" button.
"Companies want to understand what the use cases are and where automation makes the most sense for their operations," Turner explains. "They also want to know what the return on investment (ROI) looks like and are 'dipping a toe in the water,' so to speak, versus just doing broad [technology] rollouts across their operations."
Companies are also looking to the technology vendors for more comprehensive solutions that tie together in a "control tower" format, versus just working independently of one another.
Using application programming interfaces (APIs) that allow disparate solutions to be readily integrated with one another, vendors are pairing up solutions into more cohesive, unified platforms that manage different aspects of the supply chain.
Once in place, supply chain control towers also help companies wrap their arms around the massive amounts of data that their systems are producing—not all of which is unified or easy to take action on. "When you consider all of the various systems and data points that exist within an operation, whether it's warehouse management systems, warehouse automation or supply chain visibility solutions," Turner explains, "being able to collect and act on all of the data that's available in those systems is pretty intriguing."
Harnessing the power of collaboration
As evidenced by the many cohabited exhibitor booths at the recent Modex 2022 trade show in Atlanta, more software and hardware vendors are also collaborating for the greater good.
So rather than developing their solutions in a vacuum, they're pairing up to create solutions that manage more than just one singular aspect of the supply chain. This, in turn, is helping shippers build out their end-to-end digital supply chains without having to piece together too many
disparate, disconnected systems.
At Modex, container manufacturer FLEXcon was demonstrating how its products paired well with a Locus robot, which was in the booth to show off the successful pairing.
And, terminal emulation developer StayLinked was demonstrating how its technology supports Zebra Technologies' enterprise wearable Android mobile computer for picking, packing or order handling. These are just two of the many real-life examples of how technology vendors are merging their strengths to help bring the digital supply chain into focus for a larger number of companies.
Turner says he's seeing similar examples of vendor collaboration in the WMS space, where the software serves as the "center of the universe" and has to be able to play well with other software, equipment and devices. Unfortunately, some older systems can't always get in the game and wind up thwarting a company's digital supply chain journey and overall visibility. This is slowly changing as companies assess their current systems and invest in more modern, interconnected solutions.
Getting technology solutions integrated and sharing data with one another is only one aspect of the complete digital supply chain; there's also a human element to it. Shippers also have to be able to extract and take action on that data, and this may require an internal organizational shift. Put simply, the focus cannot only be on the information technology itself; it also needs to incorporate the decision-makers within the organization.
"You need a clear chain of command established for taking action on the data and making decisions based off of it," says Turner. "This is an important aspect of the end-to-end digital supply chain that's often overlooked when the focus is really more on the IT, and not necessarily on building the organizational structure behind it."
Setting the stage for success
Knowing that some companies are still running their supply chain operations on spreadsheets, legacy solutions and disparate systems, Christian Titze, research vice president, supply chain technology, at Gartner, sees three key digital supply chain developments on the near horizon. For starters, he says more vendors are opening up their planning applications to be able to "ingest more real-time operational data." This will help companies lay down better plans and then respond accordingly should those plans be disrupted.
"Software vendors are building solutions that can ingest more operational data from the supply chain ecosystem in real-time," says Titze, "and that build on the end-to-end data to drive more [informed decisions]."
He also expects supply chain software suites that include both planning and executional applications—think Infor, E2open or One Network Enterprises—to expand as companies look for ways to reduce the complexities of software integration. "When you use different best-of-breed solutions, you wind up with a high degree of integration effort," Titze points out. "But when you are on a single platform, you can reduce that effort because everything is in one place."
Titze also expects to see an uptick in the number of intelligent data platforms available on the market, which currently includes large data platforms like Google, Amazon, Microsoft and IBM, but is now also being populated by boutique AI vendors that have jumped into the fray.
And finally, he's seeing more vendors re-modernizing their software architectures in favor of microservices (a software development approach that structures an application as a combined collection of services).
The use of microservices started in the insurance and finance industry and later moved into manufacturing execution systems (MES) and enterprise resource planning (ERP). It's now moving into the supply chain software sector. "We're seeing early adoption of microservices in the supply chain, and particularly in the multi-enterprise area," says Titze, "when Manhattan Associates just rewrote their applications to microservices."
What's ahead?
As he surveys the supply chain software space right now, Mike McCullough, vice president, North America supply chain lead at Capgemini Invent, observes quite a few capabilities pushing digital supply chain acceleration right now, including control tower solutions, digital twins, warehouse automation and "data decision" platforms. "Collectively," says McCullough, "these tools help organizations understand short-term impacts to the business based on real-time updates, reduce production times, and enhance supplier collaboration and sourcing."
According to McCullough, COVID-19 has had a "significant impact" on most businesses globally. Two years into the pandemic, most of these companies are working to understand the impact of the related supply chain disruptions. In response, they're adopting solutions and techniques that help them mitigate risk, put out daily fires and plan for the next potential disruption.
The supply chain is right at the center of these activities, shifts and decisions. "The pandemic has pushed businesses to view the supply chain as a critical enabler rather than a siloed function," says McCullough. "Now, companies understand the potential benefits of having a truly digital supply chain—from cost savings and operational efficiencies to exception-based reporting and data-driven insights."
Getting to those benefits isn't always easy or straightforward. According to McCullough, the main issue holding companies back is their ability (or inability) to support digital supply chain initiatives through internal resources. "Hiring has been particularly difficult for many organizations today as they need to increase their headcount to grow their business and fully support supply chains," he says.
To help, more vendors are folding probabilistic modeling (i.e., factoring in the impact of random events or actions to predict the potential occurrence of future outcomes) and artificial intelligence (AI) into their solutions. Both of these tools help companies automate their supply chain forecasting with greater accuracy.
McCullough says supply chain software vendors are also reevaluating the role of sales and operations in risk mitigation and developing integrated offerings that will incorporate AI, sales operations planning, and control tower solutions.
"Look for increased usage of sales and operations planning [S&OP], control tower solutions, AI risk management capabilities, and scenario planning in the next year or so," says McCullough, who tells shippers to keep an eye on the future, even as they work through the challenges that are right in front of them.
"To succeed in the long run, companies will need to look beyond 2023," McCullough points out. "Over the next few years, expect organizations to introduce advancements in virtual reality (VR), augmented reality (AR), automation, and the metaverse, plus the widespread operational and process changes that support these tools."
By Bridget McCrea
Source: https://www.logisticsmgmt.com/