Airbus: Greener skies to drive demand for new widebody freighters
25 November 2022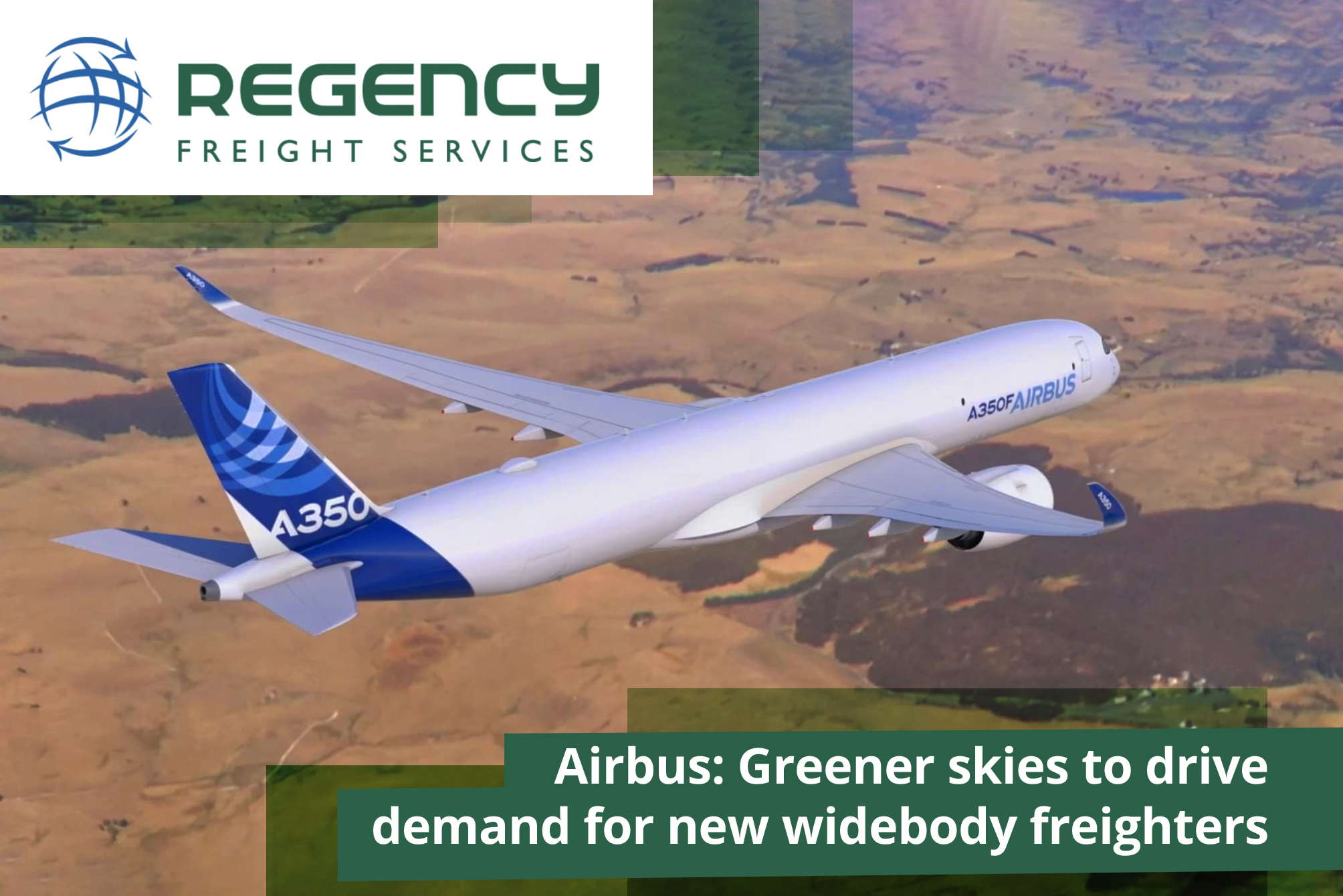 Crawford Hamilton, head of freighter marketing at Airbus, is crystal clear about the environmental challenge facing airfreight: "The quickest route for sustainability in the air cargo industry is to replace the current generation of heavy freighters."
European aircraft framemaker Airbus is now taking orders for the A350F, the next generation production line variant of a successful passenger twin-engine jet, and it will compete head-to-head with Boeing's B777-8F.
Both freighters have yet to come off a production line, but Airbus hopes to have its first A350F in service by 2025, an anticipated two years ahead of its US rival.
Asked why Airbus has chosen now to enter the production line freighter market against Boeing, which has an unchallenged range of line-built cargo aircraft, Hamilton is quick to dispel the suggestion that Airbus is a catch-up novice in maindeck cargo capacity.
"We are not without experience, and we had more Airbus freighters flying in the 1990s than there were Boeing freighters, because we have the A300Fs and some conversions as well.
"Also, we have been working for a long time with our partners at Elbe Flugzeugwerke (EFW) in producing passenger to freighter (P2F) aircraft conversions.
"If you look at our strategy, we got into P2Fs with EFW and ST Aerospace for the successful A330 and then with the A320 and A321 family.
"That has given us an awful lot of experience in freighters plus the interaction with customers, to learn from them."
Freighter orders for Airbus and Boeing are booming, whether production line aircraft or conversions, the latter from plentiful and cheaper passenger aircraft feedstock grounded by the pandemic.
Added to that, United Nations agency International Civil Aviation Organization (ICAO) has set stiff carbon emission reduction targets by 2050.
Hamilton says that the upcoming ICAO legislation will put a stop to all current line-built freighters rolling out of the hangars from the end of 2027, prompting airlines to look now at their next-generation passenger fleet and compare them with the current all-cargo aircraft on offer.
"Airlines looked at the freighter market and saw the B767F and B777F, neither of which are next-generation freighters, so without a doubt, the industry needs to move to next-generation freighters.
"People told us that monopolies are not great, and customers said they would welcome a bit of competition. If you say that to Airbus, it is grist to our mill because we were created to compete, and that is what we do, we bring choice to the market."
Another factor is that older freighters, such as the B747–400F and -400ERF are now approaching 30 years old, which Hamilton considers a ready-made replacement market: "There is a requirement for new design freighters, and people are also coming to us about the monopoly. If you put that all together, it is the best opportunity we have ever had."
Bespoke offering
E-commerce's rapid development and that of express mail is propelling the demand for freighters, both from pure all-cargo operators and combination carriers.
Those changes in the cargo market have seen Airbus talk to potential A350F customers in detail about what they want from the new aircraft.
"We started consulting with customers on the A350F from 2015. We listened a lot to the massive inputs from customers about the big door at the back, the way the payload is handled and the onboard courier areas. We have an ongoing dialogue with customers and potential customers on those subjects."
That dialogue, says Hamilton, is to counter any customer perception of "you can have any colour you want as long as it is black" adding: "That was something we were definitely getting feedback on. It is one of the disadvantages of a monopoly, but the great thing is that we offer choice and there are options available on our freighter."
Hamilton did not go into detail about those options for reasons of commercial sensitivity but added: "There are ways to customise the A350F for all the principal markets and for what particular customers want to do with that aircraft."
He adds: "From our point of view, we will be entering service in 2025, and what Boeing does is up to them. We have an all-new aircraft, not just in terms of systems but also the A350 [passenger aircraft] which has completed over 5.5m flight hours. All that experience goes into the freighter.
"The A350–900 [passenger aircraft] went into service in January 2015 and then we had the A350-1000 with a 2018 entry into service, so in terms of the platform and the engines it is an extremely mature aircraft. That in-service experience is 2,000 times the number of flight hours that the B777X has.
"That in-service experience for the A350 is not a flight test environment, it is an aircraft in service with airlines doing what they do, and it is rough and tough.
"We know we have 99.5% reliability on the A350 which is almost unprecedented in a widebody aircraft."
The A350 freighter is based on the A350-1000 passenger aircraft, which provides airlines with commonality on spares and flight crew operations.
Hamilton adds that it also presents less of a challenge in executing the freighter programme.
Green challenge
Sustainability, a big issue confronting the air cargo industry, comes in two forms for a new freighter aircraft: saving fuel burn and thus lower carbon emissions and fuel costs, while raising the payload through lighter airframe materials.
The A350F is built out of carbon fibre, a much lighter and extremely tough material that is "ideally suited" for freighter operation, says Hamilton, adding: "We can take weight out of the airframe by using advanced materials, for example using titanium in this aircraft. We take all that weight out of the aircraft and put it into payload and that means additional revenue."
Hamilton states that compared to the Boeing 747s currently flying, the A350F has a 40% lower fuel burn which translates into 40% lower CO2 emissions.
"We can get the same volume as those aircraft and, compared to the Boeing 777F, the A350F fuel burn is 20% lower.
"That is a generational change over the B747F and another generation change again compared to that aircraft [the B777F]."
While cutting fuel emissions is paramount, cutting operating costs makes a freighter business economically sustainable.
"If you look at where current fuel prices are and the risks surrounding those prices, the A350F gives you instant hedging, because fuel costs are so low compared to the aircraft currently being operated," he says.
Is this booming freighter market a time for a rethink for the big two airframers? The loss of the Antonov 225 mega-freighter and the reduced availability of other Ukrainian-built specialist heavylift aircraft has narrowed the options for transporting awkward and ugly cargo.
Is there any prospect that Airbus would design a totally new freighter for the specialist heavylift sector, and not one derived from a successful passenger jet?
Hamilton says that Airbus has built the non-standard BelugaST and the Beluga XL freighters, designed to carry aircraft wings, with the older ST fleet now being offered on the charter market in response to a shortage in outsized cargo capacity.
Timely though that may be, the Beluga's suitability for extra heavyweight air cargo is limited by the aircraft's design.
However, the pure economics of a clean sheet design heavylift freighter are not promising.
Hamilton says: "If you look at the market, there are approximately 700 to 750 large freighters in service, but in terms of a programme size, if you look at a 50-50 split [between Airbus and Boeing] it would be considered very small and somewhat challenging in terms of getting the economics right."
He makes the point that the Antonovs were designed in Soviet times as military aircraft, "but if you are looking at that as a commercial programme, neither Boeing nor ourselves could make it commercially viable".
Nose loader
Neither the A350F nor the B777-8F have a cargo nose-door option, so why the snub when even the latest B747, the -8F, comes with nose-lifting as standard?
"From what we hear the nose-door on the existing 747Fs isn't used that often, and for some operators, it's just not relevant. The question was, should we do it?
"We concluded that the nose door would add weight, add complexity and would be costly for what is a limited market at this stage.
"There are certain loads a cargo nose door is suited for but otherwise you're just carrying around extra weight that costs money."
If a freighter operator wanted a nose door, could that option be added at a later stage?
"The question is who pays for it, and it is always going to remain the problem," he says. "Often, people discover there are things they want but when they find out they have to pay for it they then decide that they don't necessarily need it.
"The nose door is not something for the current generation of freighters, it is really a legacy from the B747–200 freighter."
The twin-deck A380 passenger jet will soon have potential feedstock for a freighter, and in the early design stage a production line freighter version was considered but soon dropped as an idea.
Industry consensus has concluded that a P2F is not really on the drawing board due to conversion difficulties and operational cost economics.
Is an A380 P2F part of Airbus's current thinking?
"We are seeing the A380 come back into passenger service in an incredible way so that means any kind of urgency for a conversion has probably receded slightly," says Hamilton, adding with a smile: "It remains an opportunity.
"Really, I think that the A350F will end up being a better freighter than the A380 would be. In that perspective we have the right airframe at the right time. I think now we're probably in a better place."
His focus is on the present boom in freighter orders: "There is a shocking amount of activity at the moment, and it has been a big surprise to me.
"But, given where the industry is right now, with the environment considerations and the airlines being fairly cashed up at the moment, now is a good time for them to make their evaluations and work out what they have to do for the future.
"It is never our timing when our customers sign up for a freighter, they will sign when they are ready."
By Roger Hailey
Source: https://www.aircargonews.net/