Air Cargo Faces Mixed 2023 in a 'Cooling' Market
6 January 2023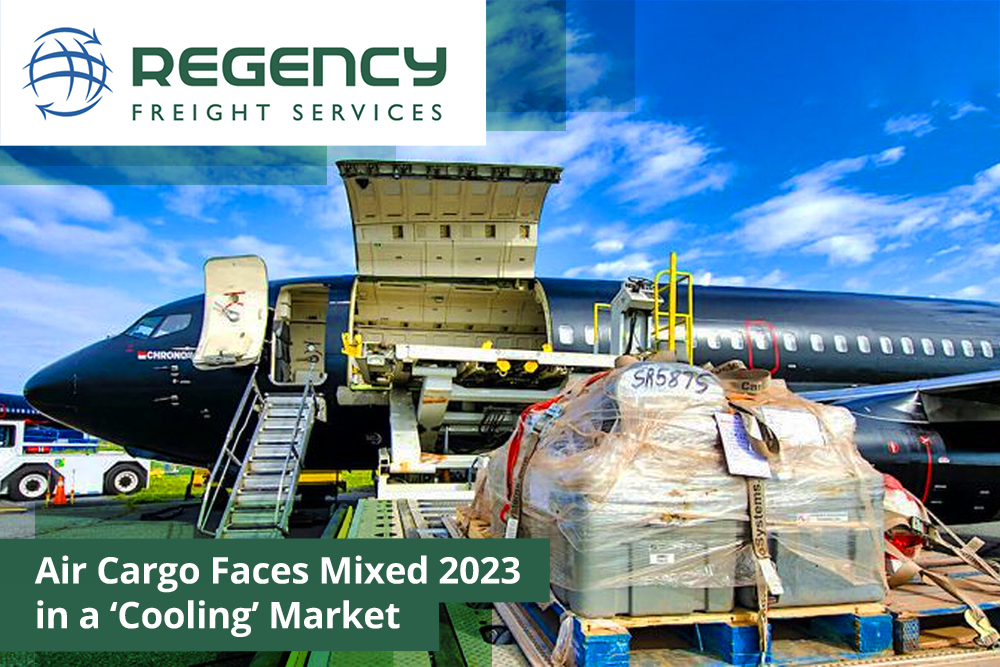 The CEOs of several major air cargo operators in recent weeks conveyed an optimistic outlook for 2023, yet they also acknowledged that the year will not likely yield the bumper performance the sector realized in 2021 and 2022.
Global air cargo volumes, yields, load factor, and revenues will all decline in 2023, according to the International Air Transport Association (IATA)'s latest forecast released in December. The group expects air cargo volumes measured by cargo tonne kilometers (CTKs) to fall by 4 percent year-over-year in 2023, following an 8 percent year-over-year drop in 2022. "The softer outlook for the global macroeconomy, along with international trade, is presenting headwinds to air cargo," noted Andrew Matters, IATA's head of policy analysis. "Things that are exerting a bit of a drag in terms of cargo volumes include the conflict between Russia and Ukraine, global [economic] growth slowdown, higher inflation, higher interest rates, and the higher cost of living," he said.
The International Monetary Fund (IMF) projects that global growth will slow to 2.7 percent this year, from 3.2 percent in 2022 and 6 percent in 2021, and its managing director Kristalina Georgieva warned that a third of the global economy will enter recession this year. The World Trade Organization forecasts that trade will slow sharply in 2023 to just 1 percent as a result of the various headwinds in the global economy.
Cargo yields likely will take a "significant step back" this year, said Matters. IATA expects a year-on-year fall of 22.6 percent. "[It] sounds like a very big number; it sounds pretty dramatic," he commented, calling expectations of a pull-back in yields, however, "not unreasonable" in the context of the very strong increases of recent years. Cargo yields grew by 52.5 percent in 2020, 24.2 percent in 2021, and 7.2 percent in 2022. "These levels are not sustainable," Matters remarked. "Even the sizable and expected decline leaves cargo yields well-above pre-Covid levels."
A GLUT OF ADDITIONAL AIR CARGO CAPACITY
Yields appear set to unwind this year on the back of weakening air cargo demand and an inflow of additional capacity. IATA data reveals that freighter deliveries have reached what it describes as an "elevated level" and the rolling 2-year average stands at its highest point since 2012. Suppliers delivered just over 50 dedicated freighters last year and IATA expects delivery of just under 50 this year. The figures relate solely to factory-built freighters and do not include passenger-to-freighter (P2F) conversions, Matters confirmed to AIN. The P2F business has enjoyed surging demand for widebody and narrowbody aircraft, and deliveries continue to grow at high rates. "It is fair to say that a lot of extra capacity is coming through. When you add the new freighters and P2F conversions to the additional belly capacity [as passenger air transport recovers] in a market that is cooling, that is going to put downward pressure on cargo yields," Matters said.
The International Air Cargo Association (TIACA) also expects downward pressure on yields in 2023 based on further capacity increases and slower demand. "But structurally the industry is in a good place and towards the second half of 2023, we could see demand picking up compared with [2022]," the Miami-based trade body asserted.
Lufthansa Cargo acknowledges the likelihood of increasing freight capacities, but it believes that could help ease the continued supply chain strains. IATA shares the view, with Matters describing the supply chain issues as a potential "upside" risk to the 2023 outlook. "Supply chain disruption, particularly as it impacts global shipping, could provide support for air cargo as businesses seek timely solutions to address any supply chain problems," he said.
For Lufthansa Cargo "a normalizing market is in sight" after three years in crisis mode. The air cargo division of the Lufthansa Group remains "optimistic" about 2023 and the year will not require a fundamental change in strategy. "Recent years have shown that global trade is resilient and there continue to be growth markets. Air freight has always been dynamic and volatile. Flexibility is and will continue to be in demand in the future," Lufthansa Cargo CEO Dorothea von Boxberg said.
The company markets the belly capacity of the group's airlines and deploys 16 Boeing 777Fs. Last year, it ordered seven Boeing 777-8Fs for delivery between 2027 and 2030. Lufthansa Cargo complemented its widebody fleet with two Airbus A321Fs last year to support its e-commerce business within Europe and to selected medium-haul destinations.
"UPSIDE" RISKS TO THE FORECAST
E-commerce demand will continue to present a source of growth for air cargo providers in 2023, according to TIACA, while IATA's Global Head of Cargo, Brendan Sullivan, believes that Covid has delivered a structural upward shift in e-commerce, calling the market "unstoppable." IATA estimates that cross-border e-commerce sales will increase 13 percent year-over-year in 2023, to $2.1 trillion. Eighty percent of cross-border e-commerce gets shipped by air and e-commerce accounts for 18- to 20 percent of air cargo, according to IATA. "A lot of the narrowbody freighters seem to be geared for e-commerce," remarked Sullivan.
Despite the softening freight market indicators for this year, "it is not all bad news" as most indicators will remain above pre-pandemic levels, Matters stressed. IATA expects cargo revenues to decline to around $149 billion in 2023, from around $200 billion in 2022, but remain "about 50 percent higher than the pre-pandemic level of 2019," he said. The group also expects cargo's share of industrywide revenue to further ease to 19 percent—down from 28 percent in 2022 and the peak of 40 percent in 2021—compared with a 12 percent share in 2019.
Moreover, he noted, the forecast for 2023 includes "upside" risks. For example, should the Russia-Ukraine conflict be resolved, consumer and business confidence could rebound sharply, driving recovery in economic activity, spending, investment, and international trade. "All of this would be positive news for cargo volumes," he concluded.
by Cathy Buyck
Source: https://www.ainonline.com/